KEMER REGION
Kemer, which is located in the interior of the popular tourist resort on the Mediterranean coast of Turkey, has a coastline of approximately 52 kilometers. There is a marina and blue-flag beach in the district, which has a special nature that combines sea, mountain and forest.
Tekirova, a neighboring area that is approximately 17 kilometers from Kemer and fascinates people with its nature, is a location that will attract those who are looking for a quiet holiday with nature and those who expect to have non-stop fun. The fact that there are many historical beauties that can be discovered around Tekirova makes this region an ideal place for a holiday.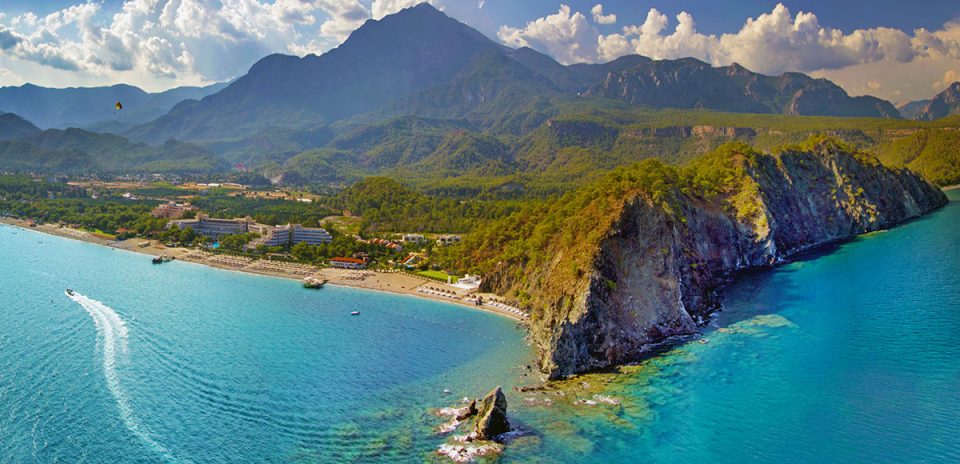 ROYAL DIWA TEKIROVA RESORT
Our hotel, which is established on an area of ​​120,000 square meters and stands out with its seafront, offers inviting opportunities to satisfy the expectations of guests who want to spend a quiet holiday and those who seek an adrenaline-filled holiday experience. Thanks to its private beach that allows different and fun water sports, you can have an exciting holiday experience every moment, or if you wish, you can enjoy the silence and peace with a pleasant massage at the SPA center. You can use indoor and outdoor pools in our hotel, which has a private blue-flag beach with a length of 500 meters. Your entire family can have a pleasant time on the fun slides in the pools.
The children's club and children's pool, which are specially prepared for parents to have a comfortable holiday and children to spend time with their fellows without getting bored, make it possible for our little guests to enjoy every moment thanks to special activities for children throughout the day.
It is possible to experience exquisite flavors at every moment of the day in our hotel, which serves four different restaurants where selected tastes from Turkish, Mexican, Far Eastern and Mediterranean cuisines are served, as well as one seafood and one VIP restaurant.
How Do I Get to Tekirova?
Please contact us anytime you wish to reach our hotel, which is 50 kilometers from Antalya center, 15 kilometers from Kemer, and 60 kilometers from Antalya Airport. In addition to the car rental options in our facility, you can start a comfortable holiday with the airport transfer opportunities offered to our guests.
Consider taking advantage of Royal Diwa Tekirova Resort and making your plans for this magnificent comfort area to relieve your tiredness, get away from the stress of life, and enjoy the breathtaking moments.